Are you trying to get the best athletic socks for stinky feet? It is perfectly understandable if you sweat while engaging in sporting activities. But for many, their feet do more than sweat; they stink even while using socks during the exercises.
This can cause discomfort and severe damage if the situation is not quickly addressed. What are the best athletic socks for stinky feet?
Many often ask this since not all socks can wipe sweat and moisture. More information will be provided in this review.
5 Best Athletic Socks for Stinky Feet
Criteria for Selecting Best Athletic Socks for Stinky Feet
Not just all socks have the power to wipe moisture and keep your feet fresh, so consider the following criteria to make choosing easier;
•    Length: one of the most important things you should consider is the length of the socks. The sport you are engaging in might have a specific requirement, and doubling the size might only complicate issues instead of helping
• The material used: as much as possible, you must consider the type of material used for the production process, especially if your skin reacts to different materials.
•    Gender: the best athletic socks for males might not be perfect for females. But you can get ones that both genders can use, which is often the best. Otherwise, be sure you are selecting the one for the right gender.
5 Best Athletic Socks for Stinky Feet
This sock is designed for both men and women. The moisture-wicking ability of these socks makes them unique and perfect for dealing with stinky feet. Made with 80% combined cotton and 20% copper yarn.
The foot loop is designed to cover the foot entirely and increase protection against the wound, often caused by friction and tight shoes. The anti-odor design of the socks helps get rid of embarrassing smelly feet quickly.
The copper ion in the yarn helps produce naturally protected areas, which eliminates 99% of smell and sweat.
Designed for both men and women. It is a cushioned athletic running sock perfect for moisture-wicking. It is made of 4% spandex and premium non-itch merino wool, which contains 53% merino wool, 36% polypropylene, and 7% nylon.
As a unisex sock, the socks come in different sizes to suit the need of all. It is a perfect sock for running in wet weather, trail running, marathon running, or any other sport.
It comes with cushioned anti-blister technology that prevents your feet from getting injured and removes sweat. The moisture-wicking property helps gets rid of offensive smells and odours.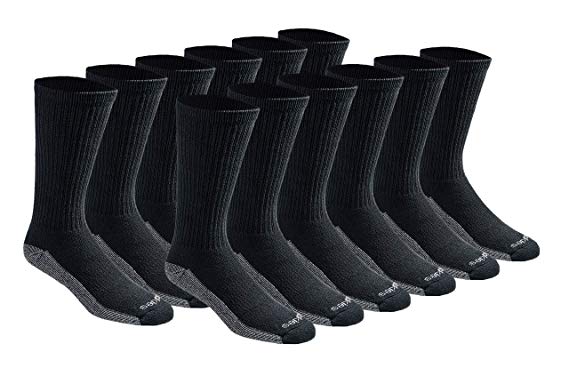 If you have been trying so hard to get rid of stinky feet while engaging in sporting activities, this is one right sock for you.
The socks are composed of 78% cotton, 19% polyester, 2% spandex, and 1% nylon. It is 0.7 inches in height and 14 inches wide.
It comes with a soft, breathable moisture control fiber, arch compression support, and stability. The ventilation pores help enhance airflow and make getting rid of stinky feet possible.
The heel and toe are reinforced to absorb all moisture the feet release.
There are other high-quality moisture-control socks. The socks are made of 74% polyester, 22% cotton, 3% rubber, and 1% spandex.
The socks are built with cool cell moisture control technology that helps keep your feet cool and dry, easily eliminates stinky feet, and maximizes airflow.
You can get a regular sock size of 10-13 inches for a shoe size of 6-12 inches and an extended sock size of 13-15 inches for a shoe size of 12-16 incheses.
The arch support and sport cushion make the socks perfect for all male athletes.
The socks are brilliantly designed with Coolmax moisture-wicking technology, which makes them perfect for all sports like running, tennis, and other casual use.
The composition of the socks includes 49% Coolmax polyester, 30% polyester, 19% nylon, and 2% spandex. The socks can be washed easily inside the machine with like colors.
If you require bleach, using non-chlorine bleach for washing is best. Comfort for your feet is guaranteed in these socks, and the arch support makes it perfect for your feet and prevents foot fatigue.
It also has a smooth toe seam which provides blister protection.